Seminars/Workshops
"I attended Pia's 'Quality of Life' session at the recent CIPD conference in York UK and she really got me thinking about MY life – priorities, time management, health, etc. She has a disarming style and a really infectous personality and you can't help but feel better in her company. Through her book about 'The Swedish Way' and her workshops Pia is doing something really important in our world – highlighting the pernicious problem of stress and giving us practical tools to deal with everyday pressures. She is an engaging speaker and I can guarantee your life will be enhanced by spending time with her and listening to (and applying) her wisdom."
/ Andrew Thorp, Award winning speaker. Helping individuals & companies tell their story better. Co-founder MojoLife
"I consider this type of workshop definitely achieves connectivity with oneself and could result in connecting with others in a positive manner" , "The model is a very good base upon which individuals can start to implement change and influence others", "It enables one to focus and underlying issues that one normally may not bring themselves to consider",  "I found the experience very useful and insightful", "Do it – Do the workshop and then do what you planned", "It taught me to be honest to myself", "It was helpful to be given the time, space and tools to carry out an inventory and analysis of the issues in my life and to receive encouragement to deal with them", "A great start to a new positive work-life balance. A foundation for the future"
 / Directors from Marsden Rawsthorn Solicitors Limited, United Kingdom
"Thought provoking", "Inspirational – a true reflections of issues affecting most individuals",  "Pia is obviously passionate about what she delivers and no doubt capable of motivating people. Her approach was interesting and empowering!",  "I have been given the knowledge to start to change my life by questioning what makes me unhappy and change it", "Webbs Quality of Life Models coaching tool is a a simple and effective tool that produced some personal actions in a short space of time", "It is a very good model to clearly show how personal and professional lives are completely linked.", "Take a bow Pia".
 / HR professionals on a CIPD course, Blackburn University/College, United Kingdom
1-2-1 Coaching
"The Webbs Quality-of-life model© program conceived by Pia is highly effective. It gives insights into ones inter-personal relationships, behavioral patterns, and leaderships styles. And these insights come in a natural way, as it were self-discovery. I must add that it is Pia's sensitive and intelligent coaching that is really behind the phenomenal results ones with the program. I highly recommend the program to those who are seeking to balance work, family, and health and emerge reinvigorated."
/ Rohit Bhatia, former CEO at Seamless Distribution AB, Sweden
"I am a coach with many years experience and have worked with many coaching models. In my opinion the model that Pia Webb has developed is the most effective model I have yet seen. The opportunity to think about my whole life, in cumulative bite size chunks in advance of my coaching session with Pia, afforded me the time and space I needed to plot my life around the wheel. I really felt I was in control. During our coaching, Pia, very skillfully, helped me unearth issues around my personal life that I am now addressing which in turn are having a huge positive impact on both my personal and professional life. I have always believed in the power of coaching 'the whole being' and not just focusing on working life. I am happy to endorse this model and wish Pia great success."
/ Alan English, Managing Director at Alan English Consulting Ltd, United Kingdom
"I have worked with Pia in a Life Coach capacity and studied the Webbs Quality-of-life model© and must say that this has provided me with a fantastic sense of clarity, leading to personal achievement and well-being. I myself have studied, practiced and on a daily basis coach Business Owners through many business/personality models; but what I found and was inspired by Webbs Quality-of-life model, is that it brings the 2 elements of Business Life and Private Life together in a controlled, sensible, healthy and timely manner. I would highly recommend Business Owners to spend time with Pia to learn and understand more through this model. Not only will this help you and your business, it is also transferable to your employees and private life. Pia is honest, realistic and sincerely trustworthy. By attending Pia's workshop and 1-2-1s I have earned myself more time and focus."

"Coaching really does work!"
Jayne May, HR Professional shares her thoughts on her coaching experience
"It´s becoming an even better place to work!" / Bob Wagner, Managing Director

Bob Wagner, Managing Director of DPG plc, shares his thoughts on Webbs Quality of Life Model© and the effect it has had on the company and the staff.
DPG plc is the UK´s favorite and leading provider of CIPD qualifications, ILM Qualifications och Kirkpatrick Evaluation
"Being a coach myself, the model that Pia Webb has developed is the most effective model I have yet seen"

Listen to Alan English och Richard Singleton´s experiences.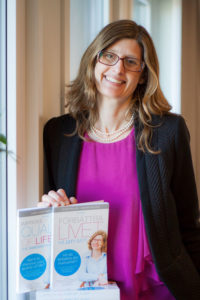 Read more about Pia Webb here