Utvalda referenser
Seminars/Workshops
"Webbs Quality of Life Model was a very helpful tool to visualize my current situation and my aspirations for work/home life balance", "The workshop helped me to identify areas I need to focus on and it gave me space to think what I need to do differently, especially at work", "It gave me an opportunity to acknowledge where I´m at currently", "The model gave an opportunity to compartmentalize my thoughts and so find solutions", "Great workshop for reflection, time and a direction of travel", "I wish Webbs Quality of Life Model was adopted by the whole NHS"
/ Middle managers at the NHS (National Health Service), Storbritannien
---
"The Webbs Quality-of-life model© program conceived by Pia is highly effective. It gives insights into ones inter-personal relationships, behavioral patterns, and leaderships styles. And these insights come in a natural way, as it were self-discovery. I must add that it is Pia's sensitive and intelligent coaching that is really behind the phenomenal results once with the program. I highly recommend the program to those who are seeking to balance work, family, and health and emerge reinvigorated."
/ Rohit Bhatia, Managing Director – Asia & Middle-East at WiMP Music
---
"I am a coach with many years experience and have worked with many coaching models. In my opinion the model that Pia Webb has developed is the most effective model I have yet seen. The opportunity to think about my whole life, in cumulative bite size chunks in advance of my coaching session with Pia, afforded me the time and space I needed to plot my life around the wheel. I really felt I was in control. During our coaching, Pia, very skillfully, helped me unearth issues around my personal life that I am now addressing which in turn are having a huge positive impact on both my personal and professional life. I have always believed in the power of coaching 'the whole being' and not just focusing on working life. I am happy to endorse this model and wish Pia great success."
/ Alan English, Managing Director at Alan English Consulting Ltd, United Kingdom
---
"I mitt yrke som VD, har jag blivit coachade av Pia flera gånger, och kan ge mina allra bästa rekommendationer. Som en executive och personlig coach, är hon mycket engagerad i företagets samt individens behov. Hennes sätt att coacha har verkligen hjälpt mig att hitta mina styrkor professionell samtidigt som jag växt som person också. Hon bygger omedelbar förtroende och levererar över förväntan. Pia är en mycket professionell coach. Hennes positiva och entusiastiska personlighet är en tillgång i alla områden av coaching. "
/ Johan Lantz VD, Svensk Konstruktionstjänst AB, Sverige
---
"I attended Pia's 'Quality of Life' session at the recent CIPD conference in York UK and she really got me thinking about MY life – priorities, time management, health, etc. She has a disarming style and a really infectous personality and you can't help but feel better in her company. Through her book about 'The Swedish Way' and her workshops Pia is doing something really important in our world – highlighting the pernicious problem of stress and giving us practical tools to deal with everyday pressures. She is an engaging speaker and I can guarantee your life will be enhanced by spending time with her and listening to (and applying) her wisdom"
/ Andrew Thorp, Award winning speaker, Co-founder MojoLife, Storbritannien
---
"Pia was an inspiration to me providing a new refreshing and positive outlook on all aspects of life whether business or personal. I would not hesitate to recommend her as someone with great vitality and someone who can inspire."
/ Paul Ridehalgh, Director at Marsden Rawsthorn Solicitors Ltd, Storbritannien
---
Är du intresserad av att ta del av fler referenser, kontakta oss gärna!
"Coaching does really work!"
Jayne May, HR Professional shares her thoughts on her coaching experience.
"It´s becoming an even better place to work!" / Bob Wagner, Managing Director

Bob Wagner, VD för DPG plc, delar med sig av sina tankar kring Webbs Quality of Life Model© and erfarenheterna från att arbeta med Pia Webb.
DPG plc är Storbritanniens ledande leverantör av CIPD qualifications, ILM Qualifications och Kirkpatrick Evaluation
Ladda ner feedbacken från deras första workshop med Pia Webb här!
"Being a coach myself, the model is the best one I´ve seen so far"
Lyssna till Alan English och Richard Singleton´s erfarenheter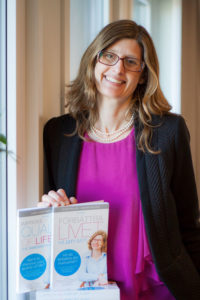 Läs mer om Pia här